It all begins with your big picture questionnaire … here is a peek at how it works : )
With MKDB it all begins with getting to know you and what you value. We start our process with the BIG PICTURE Consultation, We are sharing one of our client's responses to our the questionnaire that we begin with to give you a glimpse into our process. This particular client is exciting for us because they are reimagining their life in an urban setting and trading off closet space for proximity to coffee shops, walkability and the vibrancy of Ottawa's little Italy. MKDB are experts in urban renovations and have even designed a line of furniture to accommodate a downtown lifestyle.
Please Share Your Wishlist with us.
The house, is currently a rental property that my husband and I purchased last year. The first floor apartment has 2 bedrooms plus den and access to the unfinished basement. It is the larger apartment due to an addition on the back of the house. The current 2nd floor apartment is about 600 sq feet. We would like to live in the 2nd floor in order to have more light and access the attic space to increase the space. We think we will need an addition on the back of the 2nd floor and a 3rd level as well in order to have enough space for the following:
Living/Great room at the back of the house with a deck. Large enough for entertaining (current house has 2 condo size couches and 2 chairs only comfortably seats 6 and would like more seating) Back of the house is south facing so would like large windows for a bright living room and kitchen. Space for a TV. In floor heating in the living spaces.

Kitchen with an island with seating on 3 sides to seat at least 6. We do not want a dining room or dining table but would like to be able to extend or put an extension on the island when we have more guests (only a few times a year). Pantry (walk-in possible?) or enough cupboard/storage space.
Master bedroom large enough for a king size bed, bedside tables and perhaps a chair but not necessary. No dressers as wish to keep all clothes in Walk-In closet. Limit the amount of space in this room as only for sleeping.
Master closet with built-ins to hold all clothing so no dressers required in master bedroom.
Stackable washer and dryer. Mechanism to hang clothes to dry within the apartment if possible.
Master bathroom with counter space. I am wondering if it can be designed to have one section with toilet and sink with a sliding door to separate from another sink with more counter space and shower. Guests could access the smaller area as a powder room but we could close off the remainder of the master bathroom. Entrance from master bedroom and second entrance from hallway.
3rd floor addition: TV room with a queen size murphy bed (as hoping it would be more comfortable than pull out couch) for guests. Enough room to have a comfortable couch, chair and ottoman or sectional.
Second bathroom with bath and shower (question if need for bath) or only shower. Locate in current unfinished attic space?
Space for a treadmill hidden in an enclosed space or current unfinished attic space. Best to have on the third floor as to not disturb renters on 1st floor.
Built-in bunk beds for grandchildren?
First floor is a rental apartment with access to unfinished basement. Would like to change entryway so we would access the basement rather than the first floor tenants. Therefore, need for a new entry, separate from ours, into first floor apartment. The entry would then be into the current second bedroom (other bedroom is at the back of the apartment). Turn part of this room into a foyer and removal of non-weight bearing wall between this bedroom and living room. Therefore, change apartment into a one bedroom with a larger living space.
Who will live in your home?
Please tell us a little about who will live at your home full time:
Who will live in your home?
Please tell us a little about who will live at your home full time:
| Field of Study / Education | Current Job | Hobbies |
| --- | --- | --- |
| Nurse Practitioner | Clinic Director | Reading, movies |
| Mechanical Designer | Project Management | Sports, nature |
How often would you like to have guests stay over and for how long?
My sister visits a few times a year for weekends. John's family once a year for 2 weeks. Grandchildren regularly staying over 1-2 times per month (currently a granddaughter who is 1 year old but may have more by time of build)
Do you have pets now or some you would like to plan for someday?
No and we do not plan to have them
Tell Us About Your Current Snapshot
What are your concerns about renovating your house?
1. That it will cost a lot more than we anticipated.
2. Whether we will have enough space for our wants.
3. Also, enough storage space within the apartment. I am very interested in space saving ideas and organization. There is a basement so we will have an area for larger items.
4. I find picking all the finishes, paint colors and furnishings daunting. In addition, having to make many decisions can be overwhelming. I can worry about whether I made the right choice. I do not see myself as creative or visionary so it is very important to work with someone with these qualities.
What's the best thing about your house?
We have renovated most of it to how we like it. Very happy with our kitchen and still love the granite that I chose. My husband and I have our own spaces for watching TV or quiet time for napping or reading when we want to do without bothering each other (secret to a 25-year marriage?).
What is the worst thing about your house?
It is cramped when entertaining. Kitchen and living room are separate so guests often split up. Currently only seat 6 people comfortably in living room. Kitchen peninsula seats 3 but usually more than 3 people, often 4 when we have another couple over and sometimes we like to dine there. Small dining room that we do not use very often and can not sear everyone when we do use it. Small foyer with not much room when multiple people enter the house at the same time. Laundry is in the basement.
Winston Churchill said, "We shape our buildings, thereafter they shape us."
Keeping an eye on value…
| | |
| --- | --- |
| How long have you lived here? | We have lived in our current home for 25 years. We do not currently live in the apartment we wish to renovate |
| How long do you expect to stay in your new house? | For 20 years or more. As long as we can manage the stairs |
| What did you pay for the house? | 580,000 |
| What do you think it is worth today? | We bought it less than a year ago |
| What do nicely renovated similar homes sell for? | I do not know |
| How much are you comfortable investing in your home? | $200K |
Timing & Logistics
1. What would be your ideal timing for the design work? Please keep in mind that it may require weekly or biweekly attention in the way of meetings, emails and/or phone calls. Good design needs momentum.
We can start anytime with the planning and design. Even though, we do not plan to move for a few years we want to know if what we want is possible and what the cost will be
2. What is your ideal timing for the construction?
3. What factors are influencing these timelines? E.g. School, work, weather? How flexible can you be with these timelines?
We were planning to move there when we retire which would be 5-6 years now thinking of doing it sooner. It is important to have the space/place for my granddaughter (future grandchildren 1-2 more) to stay over easily. If that is possible then I would be open to moving earlier.
4. Can you move out for the duration or for a part of the construction phase?
The building will be vacant during the construction phase
What kind of renovation are you considering?
| Options | Y/N | Notes |
| --- | --- | --- |
| Reworking the existing space | Yes | On the 1st floor |
| an addition onto the house | Yes | Currently there is an addition at the back of the house on the 1st floor. We would like to raise the ceiling on the first floor and add a 2nd and possibly 3rd floor. |
| Exterior upgrades ie roof, siding, windows etc | Yes | As needed |
| Complete gut and Remodel | Yes | On the 2nd floor |
| Complete New Home | No | |
| Secondary dwelling unit for family, rental or office space? | Yes | Detached garage but may not be possible due to by-laws |
| Exploring whatever seems to be the ideal solution | Yes | Open to all options |
| Something else we haven't offered …a tree house perhaps? | | |
Think of how you spend your time at home as a family and keep this in mind as you reflect on your ideal home.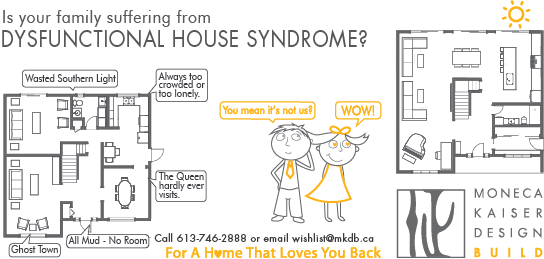 What rooms or areas are you most interested in renovating or creating?
Place an X in each box that applies to you. Please add any other options you would like to consider.
| | Bathrooms | | (Bed/Quiet) Rooms | | Shared Space | | Outdoor Space |
| --- | --- | --- | --- | --- | --- | --- | --- |
| | Family Bathroom | x | Master Bedroom | x | Kitchen | x | Front Porch |
| x | Powder Room | | Other Bedrooms | | Breakfast Nook | x | Deck or Pavilion |
| x | Ensuite Bathroom | | Library/ Study | | Dining Room | | Fencing |
| x | Other Bathroom | | Exercise Room | | Living Room | | Landscaping |
| | Laundry room | | Guest Room | | Family Room | x | Garage/Carport |
| | Mudroom | | Spa/Pool | x | Great Room | | Shed |
| | Pet Clean-up Station | | Hobby Room | | Basement | | |
| x | TV room/guest room | | | | | | |
What values would you like your home to embody?
Place an X in each box that applies to you. Please add any other options you would like to consider.
| | | | | | | | |
| --- | --- | --- | --- | --- | --- | --- | --- |
| x | Cozy | | Flexible | x | Efficient | x | Practical |
| | Beautiful | | Classic | x | Innovative | | Elegant |
| x | Welcoming | | Minimalist | | Secure | | Easy |
| x | Peaceful | | Spacious | | Simple | | Nurturing |
| x | Private | | Cheerful | x | Creative | | Adaptable |
| x | Bright | | Family oriented | x | Organized | x | Classic |
| | Flexible | x | Easy to maintain | | Meaningful | | Modern |
| x | Eco Friendly | | Kid friendly | x | Sunny | | Smart |
Your Ideal Home
1. What do you miss when you feel homesick?
2. Tell us about a memorable house, a place that made you feel good and why?
Our cottage as it is bright with nature all around, quiet and comfy couches for reading and napping. Space for the family to gather
3. Do you have a specific style of architecture you prefer? What do you like about it?
Contemporary with natural finishes
4. Do you have a vision of what this home we are co creating looks and or feels like? or are you open to it evolving to best meet your needs?
I would like to come up the stairs and see a bright, inviting and organized space. Striking and interesting aspects of design or artwork.
How do you live?
1. What room do you see as the hub/ heart of your house?
2. Where does your family spend the most time together?
Kitchen, living room or TV room
3. Does a great room appeal to you with an open living dining and kitchen all in one?
4. Who cooks and what is your ideal kitchen? (Briefly we have a whole other set of questions for this)
John is the cook and I am the cleaner. Having enough prep space. Ability to access cookware and dishware easily therefore not stacked too much or need to remove everything in order to access one item. Well organized. Uncluttered counters.
5. Where would you like the kids to hang out with their friends? Do their homework? Watch TV? Etc…
Our children are grown but we will have grandchildren visiting us
6. Who visits and what do you like to do when they come?
Friends and family. They usually come for a meal.
7. How many for a sit down dinner? How many for a casual party?
When we have my family over it is the most 13 people for a sit down dinner. We do not have many parties
8. How many bedrooms & bathrooms do you currently have? How many do you need?
We currently have 3 bedrooms upstairs and a guest bedroom in the basement. Upstairs, we have the master bedroom, my TV room and office/nursery for my granddaughter. We need a bedroom for John and I, a space for guest to stay not necessarily a bedroom and somewhere for my grandchildren to stay without my having to vacant my TV room when they go to bed early.
9. If you need a guest room? Can it have another purpose?
Yes but it can also be a TV room which is why I would like a Murphy bed
10. If you need a garage? What would it be used for?
I would really like a garage (best case) or carport. We currently have a one car garage which I use all winter. The property has a 3-car asphalt parking area. We would like to add a 3-car carport.
Special Features
1. Are there any special features you would like to have, like a pool, or fire place?
Would like an interesting staircase to the 3rd floor. We plan to have infloor heating throughout (the first floor tenant space would remain on furnace). Considering post and beam addition with structural insulated panels (SIP)
2. Do you have any special or large pieces of furniture or equipment that might require nooks or alcoves?
Nook or alcove for a treadmill
3. Do you have any artwork, collections, or books you would like to display?
I do have books but no other collections. I like the idea of built in for TV and shelving for books etc.
4. Would you like space that is dedicated to, or can be easily utilized for exercise?
Yes, I would like a space for a trend mill with a TV to watch
5. Would you like space that is dedicated to, or can be easily utilized for office work?
No but do need a spot for filing and sorting paperwork/mail
6. How important is a main floor powder room?
I would like a powder room on the main floor (2nd floor)
7. Is aging in place important to you?
Yes, we want to stay in the renovated space until we need to go to a retirement home.
Storage
1. Would you typify yourselves as packrats, ordinary savers, or minimalists?
I regularly clean out closets and cupboards. Organization is very important to me and I do not like clutter
2. Would you like an entry closet and/or mudroom?
Yes. There is currently a common entrance for both tenants. We propose to use it as the foyer for the upper space. For the lower tenant, we propose to replace a window with an entry door to create another foyer.
3. How important is closet space to you overall?
I like to have a spot for everything and keep all items organized. Items that are not used often can be stored in the basement.
What else would you like to share with us about your ideal home and how we can help?
I think we have covered it all as your questions are comprehensive. The "Tiny House" movement fascinates me in the innovative ways that they use limited space but I know that I could not live in such a small space.
Documentation and Records
We ask our clients to provide us with any current documentation
| | |
| --- | --- |
| Do you have a survey of your lot | available |
| Do you have any architectural drawings of your house? | We have created some concept plans in AutoCAD using assumed dimensions |
| When was your home last renovated and was there a permit that you know of? | It used to be a single family home perhaps 20 years ago. No permit records exist. It is legally designated rental apartment |
| When was the mechanical and electrical last upgraded? | The 2 tenant spaces are heated/cooled by common high efficiency furnace (approx.. 10 yrs. old). Electrical was recently upgraded |
| WDo you have any inspection reports or other documentation that might inform us on your house? | A recent home inspection report done last year. |
| Have you had the foundation inspected or worked on | The poured concrete foundation was reviewed during the home inspection and no deficiencies were noted. |
| What companies have done work on your home? | Within the last 6 months, we have had plumbing and HVAC work done by 2 companies to fix minor problems. |
How did you hear about us?
Thank you for helping us get to know your family and needs a little better. We look forward to presenting responsive solutions to transform your house into your ideal home!